Trekking in the Himalayas in India is an experience of a lifetime. Here you wander not only to just escape but to discover yourself. The movements of clouds, the patches of lush green forests, the crystal clear snow and views of some great mountains will mesmerise you, as you resiliently trek on these top ten passes of India.
1) HAMPTA PASS
REGION: – Himachal Pradesh
DURATION: – 5 days
GRADE: – Easy to Moderate
MAXIMUM ALTITUDE: – 14,100 Ft.
APPROXIMATE TREKKING DISTANCE: – 26 Km
BEST TIME TO GO: – May to October
Hampta Pass lies in the Pir Panjal range in the Himalayas. It connects two beautiful valleys – Lahaul and Kullu. Hampta Pass got its name from Hampta village, which is located below Sethan village. This trek offers various changing landscapes from vertical rock walls, waterfalls, to thick pine forests, open meadows and hanging glaciers and tiny lakes. Even beginners can try this trek as it is a moderate trek. The trek doesn't require technical expertise but the terrain is quite rocky and undulated. In winter, the trail will have snow at higher sections. This trek provides all the beautiful landscapes that one wishes to see on the Himalayas.
2) KUARI PASS TREK
REGION: – Uttarakhand
DURATION: – 6 Days
GRADE: – Easy To Moderate
MAXIMUM ALTITUDE: – 12,763 Ft.
APPROXIMATE TREKKING DISTANCE: – 33 Km
BEST TIME TO GO: – November to March
Kuari mountain pass is located in the GARHWAL region of UTTARAKHAND. It lies to the south of the Tibetan Plateau and is within the enchanting Nanda Devi National Park. The path to the pass is also known as Curzon's Trail in honour of Lord Curzon who first travelled on it. Kuari Pass is world-renowned for offering clear views of some highly prominent mountains, such as Nanda Devi, Kamet, Trishul and Dunagiri. The trek begins from Joshimath, in the Chamoli district of the Himalayas, which has evolved into the hub for trekkers and pilgrims. Confluences of several rivers – the Pinder, Kaliganga, Nandakini, Birehiganga and Dhauli Ganga make up the Pancha-Prayag. The trek then proceeds through small remote Himalayan villages. Walking along the Curzon trail through these villages is a great way to get acquainted with the life of the mountain folks. The trees are ablaze in the yellow-orange colours of autumn, striking a deep contrast to the blue-brown mountains and the snow caps. On this trek, one walks through gorgeous jungles of Oak and Deodar trees. And these jungles, of course, are house to some wildlife. Pug marks of leopards or Himalayan black bears can be sighted in the forests. Rhododendron trees, which bear flowers of a fiery red colour, are also found in abundance in these mountains. The truly refreshing part of the trek is while walking through the luxurious Himalayan meadows, called 'Bugyals' in the local tongue.
3) BHUBU PASS
REGION: – Himachal Pradesh
DURATION: – 5 Days
GRADE: – Easy
MAXIMUM ALTITUDE: – 9,842 Ft.
BEST TIME TO GO: – March to April, November to December
Situated at a wondrous height of 2,900m above the sea level, the Bhubu Pass Trek is an important trail that connects the Chuhar and Lagh valleys of Himachal Pradesh. With moderate difficulty level, the trek to this enthralling pass is filled with numerous fun and excitement. Taking you through scenic forests, alpine ridges, pictorial countryside and gurgling streams, this 5-days trek is an ideal way to reach and discover the stunning beauty of the pass. Also, within the trek, you can enjoy spectacular views of several ranges, snow-capped peaks and much more local villages.
4) MALANA-CHANDERKHANI PASS
REGION: – Manali, Himachal Pradesh
DURATION: – 5 Days
GRADE: – Moderate to Challenging
MAXIMUM ALTITUDE: – 11,811 Ft.
BEST TIME TO GO: – May to November
The Malana – Chaderkhani trek begins at Naggar and after crossing the Chanderkhani Pass at 3600m, the trail heads to the Malana village, famous for its distinct and very reserved social culture. This trek is laden with a bunch of beautiful alpine pastures offering gorgeous views of some of the highest snow covered mountain peaks and open valleys. The trail requires walking through the Blue Pine and Deodar, walnut, golden Oak and Wild Cherry. The Bara bangal range towers high in the west while the Pir Panjal range falls in the north and Parvati in the east.
5) RUPIN PASS TREK
REGION: – Uttarakhand to Himachal
DURATION: – 8 Days
GRADE: – Difficult
MAXIMUM ALTITUDE: – 15,250 Ft.
APPROXIMATE TREKKING DISTANCE: – 52 Km
BEST TIME TO GO: – May (last week) to June (end), September (mid) to October (end)
Rupin Pass is a high altitude trek which starts from Dhaula in Uttarakhand and ends at Sangla. This trek is highly popular as there are a diversified number of sceneries and sudden variations in trails. The trails at times are very difficult with its steep climbs which suddenly changes to an easy walk. It offers trek to every type of terrain, be it on snow, rocky terrain, along and through the water streams or meadows.
Surprises on the trek
Waterfalls views: You will encounter many waterfalls and stream through the trek. The best of the sights you will face at Rupin Valley which is of thousands of waterfalls flowing down through such a height that it appears as they are falling straight from the sky.
Jhaka Village, A Hanging Village: it is a unique positioned village at the utmost edge of the mountain making it appear to hang through the cliff.
Snow Bridges: The feeling of walking on the snow bridges you come across is another enhancement to the variety of the treks. You will come across numerous snow bridges on the trek.
Lush Forests: The trek at various places also passes through the forests of Fir, Rhododendron & Oak. The entrance and exit to the forests are again very sudden.
View of Kinner Kailash: You will get mesmerised by the views of lofty Kailash Peak while you reach towards the end of Rupin Pass trek.
6) SAR PASS TREK
REGION: – Parvati Valley
DURATION: – 5 Days
GRADE: -Moderate
MAXIMUM ALTITUDE: – 13,780Ft.
APPROXIMATE TREKKING DISTANCE: -48KM
BEST TIME TO GO: – May to June, September to November
Sar Pass is one of the most popular trails in the Pir Panjal range. Sar, in the local dialect, means a lake. The Sar Pass is in Parvati Valley of Kullu district of Himachal Pradesh. Kasol, a paradise for the backpacking lovers is the origin of this enthralling trek. Finding ways through the scenic Dhauladhar and Pir Panjal ranges, the trek is filled with captivating trails that pass through lush and evergreen forests, gurgling rivers and snow clad peaks.
7) BORASU PASS TREK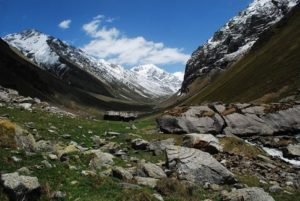 REGION: – Uttarakhand to Himachal
DURATION: – 6 Days
GRADE: – Challenging
MAXIMUM ALTITUDE: – 17,800Ft.
APPROXIMATE TREKKING DISTANCE: – 80km
BEST TIME TO GO: – June, September to October
Borasu Pass or Bara-su is a high mountain pass that is located on the border of Uttaranchal and Himachal Pradesh along the border with Tibet. It was an ancient trade route between Har Ki Dun valley and Kinnaur valley. The trek starts from Taluka and passes through the lush green Har ki Dun valley. Har ki Dun is a hanging valley in the Garhwal Himalayas, surrounded by magnificent Himalayan peaks and dense forests flocked with colourful birds and wildlife. The trek starts by following the boisterous Har ki Dun Ganga and ends with the colossal Baspa River. The trail passes through Glacier moraine, steep narrow ridges, sheer vertical snow slopes and boulder fields. All in all, it is a nerve-wracking trek – a stunning mix of backwoods and vast meadows, packed with spurting rivers and widespread glaciers, with a view of snow-capped peaks and massive boulders.
8) INDRAHAR PASS TREK
REGION: – Himachal Pradesh
DURATION: – 5-6 Days
GRADE: – Moderate to Challenging
MAXIMUM ALTITUDE: – 14,245Ft.
APPROXIMATE TREKKING DISTANCE: – 35km
BEST TIME TO GO: – Mid May to June, September to mid- October
The Indrahar pass trek starts from McLeodganj (Dharamsala) in the Kangra valley, passes over the impressive snowbound Dhauladhar range and ends at Chamba. This trek offers a chance to have a close view of beautiful Dhauladhar and Pir Panjal mountain ranges. This trek will take you through green pastures, dense Deodar and Rhododendron forests. You will get spectacular views of sacred peak of Mani Mahesh Kailash and the snow-covered Pir Panjal Range to the north while to the south you can see the amazing Indian plains till the far horizon. Moving ahead over the trek, you will find some ailing defined trail that will pass you through the Hindu temples and villages in the upper Ravi valley. Trekking on this route will offer an ultimate adventurous experience as this trek comprises of continuous climbing often over boulders. Initially, this trek begins with a steady climb through the Himalayan region and turns into a steep climb. You will experience walking through rich wildlife areas and witness wild goats, leopard and Monal bird.
9) JALORI PASS
REGION: – Himachal Pradesh
DURATION: – 9 Days
GRADE: – Moderate
MAXIMUM ALTITUDE: – 10,575 Ft.
APPROXIMATE TREKKING DISTANCE: – 75km
BEST TIME TO GO: – Mid-June to Mid-October
Located at a distance of about 100 kilometres from Shimla in Kullu, Jalori Pass has positioned away from the hustle and bustle of the tedious city life. Trekking on this beautiful trail takes you to the mesmerising places like Shoja, Sereolsar Lake, Sakiran, Lambri, Bashleo and the Great Himalayan National Park. Moreover, a trekker can also explore the forts of Fatehpurgarh, Raghunathpur and Kalagarh. There are also located many temples en route, such as Jalori Mata's Temple at Jalori Pass, Mahakali Temple at Lambri, Buri Nagan's Temple at Sereolsar Lake, Brahmandrishi, the local God of Shoja and Sgringdrashij at Cheine. These temples make this trek ideal of religious souls as well.
10) PIN BHABA PASS TREK
REGION: -HIMACHAL PRADESH
DURATION: – 6 Days
GRADE: – DIFFICULT
MAXIMUM ALTITUDE: – 17,250 Ft.
APPROXIMATE TREKKING DISTANCE: – 86km
BEST TIME TO GO: – Mid-June to Mid-October
Pin-Bhaba pass is one of the most interesting treks. Starting from the thick forest and meadows of Kinnaur and ending in a barren landscape of Spiti valley you cross the high passes of Bhaba and Pin. The people of Pin Valley and Kinnaur have been using this route for centuries for trade and this trek is very popular with shepherds. The trek begins at Kafnoo in Kinnaur and crosses over the Pin Bhaba pass at 4865 meters. The trail ascends along the left bank of the Wangar River after crossing a footbridge. The path climbs through single crop fields of Mastrang and passes through a mixed forest of conifers and temperate broad-leaved species of trees. The trail climbs through little clearings of potato and buckwheat till it reaches the meadows of Mulling (3350 meters), fringed by birch and bird cherry, leaving the Wangar River far below. From here the trail continues to Pistrang, a sheltered glade with a spring at one end and over a steep ascent to the pass. The descent is more gradual to the Pin valley, over boulder-strewn glaciers, making it a sharp contrast to lush green Kinnaur.